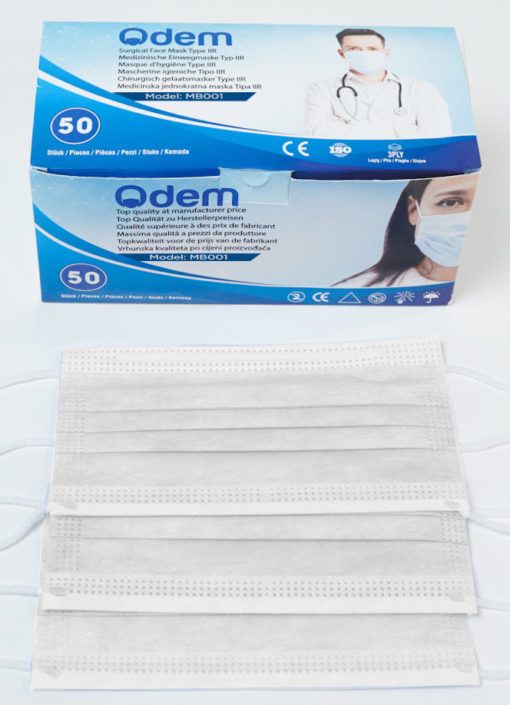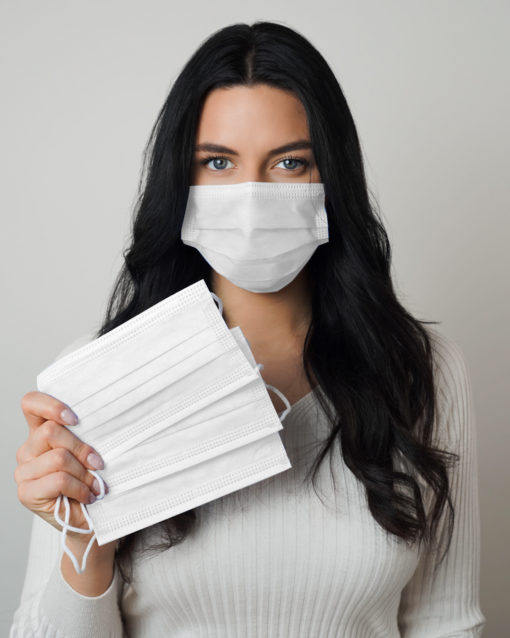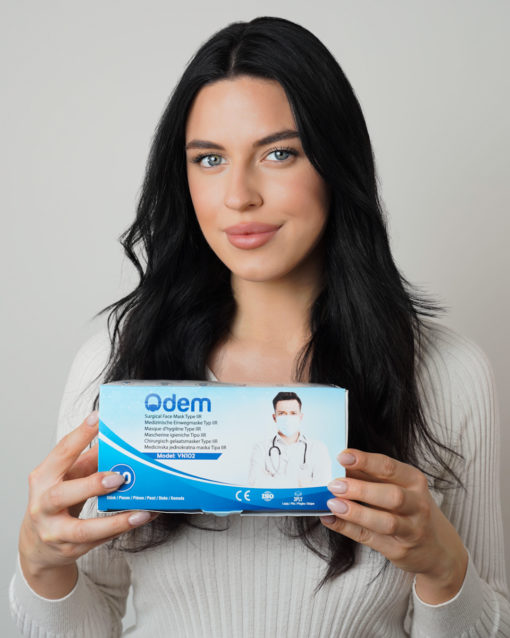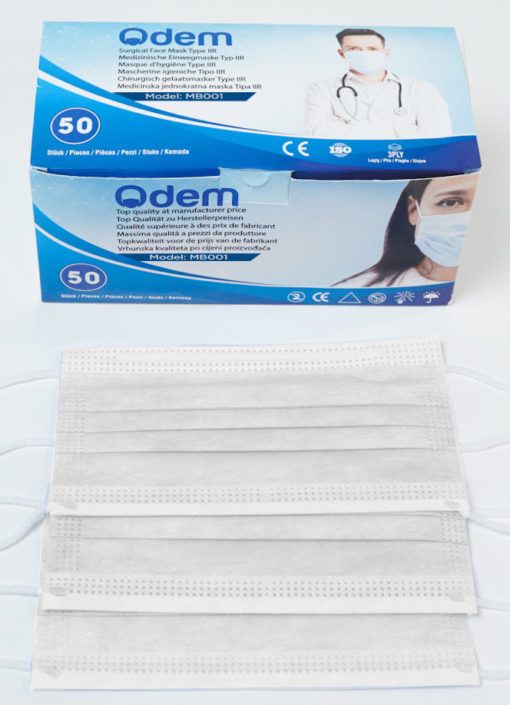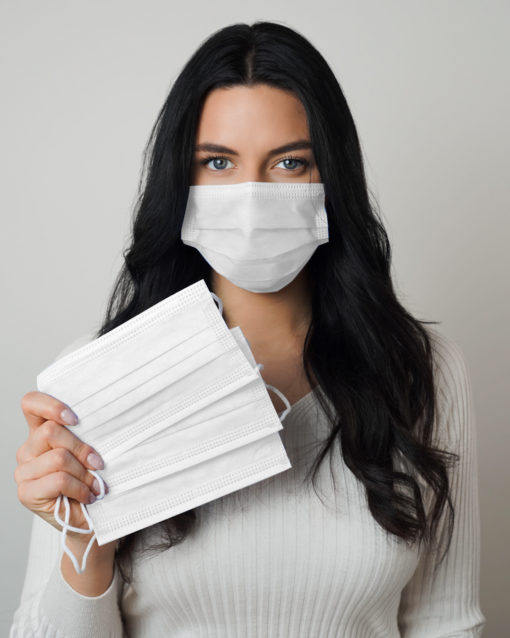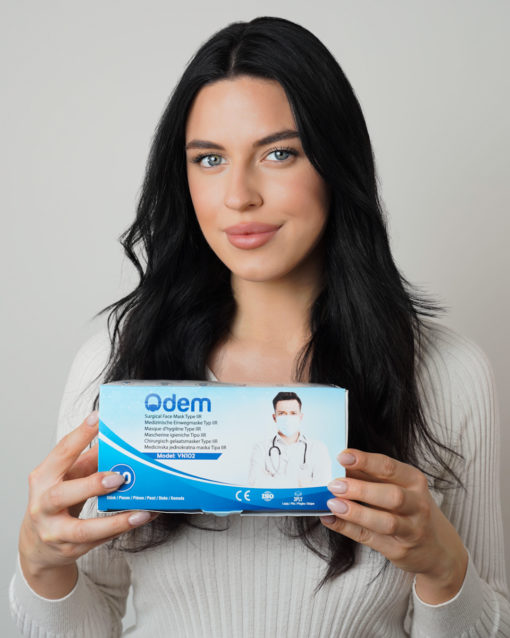 Surgical Mask Disposable Medical Mask TypeIIR with CE Odem Medizer Colour: White
Buy Medizer Type IIR white face mask online at OdemShop. The type iir surgical masks are suitable for private use and are excellent for daily use. Order today!
0,50 €*

%
1,25 €*
(60% saved)
Content:
50 Stück
(0,01 €* / 1 Stück)
Available, delivery time 5 - 7 Working days
Product information "Surgical Mask Disposable Medical Mask TypeIIR with CE Odem Medizer Colour: White"
Surgical mask medical disposable mask Type IIR with CE Odem Medizer color: White
The face mask with high protection and quality requirements:
Our Type IIR medical disposable masks are three-layer masks made of high-quality filter fleece. They offer a skin-friendly, comfortable, and medically tested bacterial filtration. Thanks to the integrated, formable nose bridge and user-friendly rubber ear loops, the mask easily adapts to any face shape.
The masks are CE certified according to the standard EN 14683:2019+AC:2019.
The disposable Type IIR masks are packed in 50-piece packages and can be easily removed from the box.
✓ CE-CERTIFIED
Our mask complies with the standard: EN 14683:2019+AC:2019 and is CE certified.
✓ HYGIENICALLY PACKAGED
The medical disposable masks Type IIR are packed in 50-piece packages each.
✓ HIGH WEARING COMFORT
The optimally shaped design of the face mask ensures a better fit to the face and high wearing comfort due to elastic, latex-free ear bands and flexible nose bridge.
✓ MONEY-BACK GUARANTEE
Our goal is your satisfaction with your purchase. If the purchased goods do not meet your expectations, you can return them within the 14-day revocation period and the purchase price will be refunded.
Application of the surgical mask / medical disposable mask Type IIR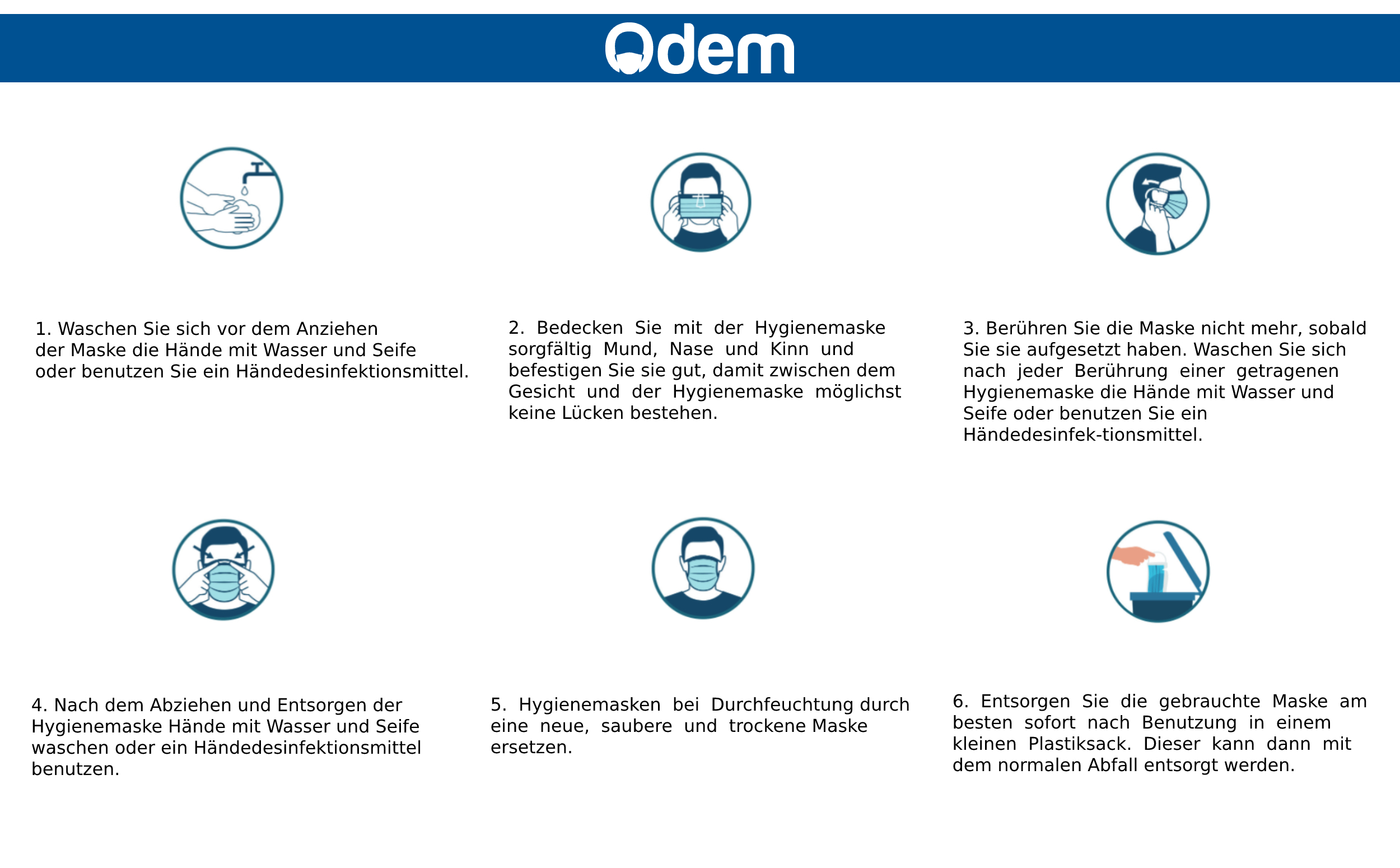 Technical Data
Mask
3-layer disposable mask / surgical mask
Plastic packaging of 50 pieces
Size: 17.5 x 9.5 cm
Weight: 4g
Size: 195 x 100 x 100 mm
Carton
2000 masks per carton
Size: 600 x 400 x 400 mm
Weight: 7.9 kg
>Certificate, Standard & Protection Class
Protection class: Type IIR
Certification: CE
Standard: EN 14683 + AC:2019
Quality assurance: ISO13485:2016
Fluid resistance / high splash resistance
Good air permeability
Product-specific FAQ
What exactly is a surgical mask / disposable medical mask?
Blog
Construction of a surgical mask / disposable medical masks?
Blog
The difference to an FFP2 mask is that the surgical masks are not used for self-protection. Furthermore, the main requirement of FFP2 masks is the filtering efficiency with regard to particulate pollutants in the breathing air. For more information about FFP2 masks, see here And for more information on disposable medical masks, see here
The main difference between the two types is that type IIR is liquid resistant and type II is not. Both masks have a bacterial filtration performance of min. 98%.
Our masks comply with the legal requirements and the European standard EN 14683:2019-10 and are CE certified.

The mask must fit over the mouth, nose and cheeks. The edges of the mask must fit snugly so that as little unfiltered air as possible is breathed past the mask.

When does the mask need to be changed?

The mask must be disposed of after one use, maximum wearing time 4 - 6 hours. If the mask is found to be soaked, it must be removed and discarded as this will impair the filtering performance. When removing the mask, make sure that only the straps are touched.

Do the TypeIIR masks have an expiry date?

The masks have a shelf life of 3 years after production.

Where are the surgical masks / disposable medical masks manufactured?

The masks are made in Turkey.

Are the masks imported by plane?

No, we import our masks by ship, train or truck. This reduces the carbon footprint and helps us to act more sustainably as a company.

Where can I find more information about disposable medical masks?

For more comprehensive information on disposable medical masks, just check out our Blog.
General FAQ
How does Odem ensure high quality at such a fair price?
The Better AG, founded in 2006 in Switzerland, has become the main supplier of thousands of companies in recent years.
The strategy:
Purchase in large volumes
Close quality control of the goods
Passing on purchasing advantages to our customers
By offering the possibility to receive free samples, customers are not taking any risks.
What is the money-back guarantee?
If you are not satisfied with your goods, you can return them within 14 days of purchase and receive a full refund.
What payment methods are available?
We offer convenient payment by invoice after receipt of the goods to a German bank account.
Is the goods already cleared through customs?
Yes, the goods have already been cleared through customs and will be delivered to you from our German warehouse. There are no additional costs for you.
Product Sheet