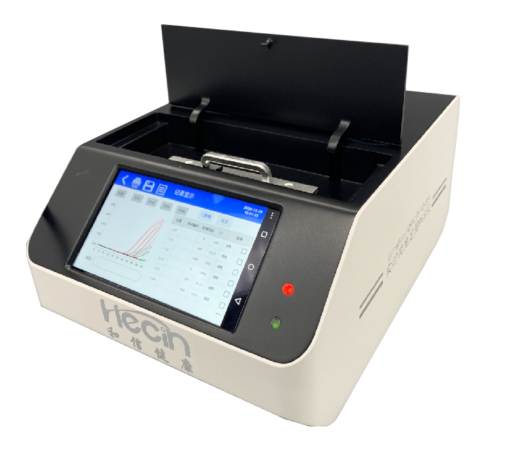 Hecin HC800 - Ultrafast QPCR device
Buy Hecin HC800 POC PCR machine online at OdemShop. With Hecin HC800, reliable, laboratory-like results can be achieved within minutes instead of days.
970,00 €*

%
13.990,00 €*
(93.07% saved)
Free shipping
Available, delivery time 5 - 7 Working days
Product information "Hecin HC800 - Ultrafast QPCR device"
HECIN-HC800-POC-PCR-QPCR-Testing Device
Hecin HC800 is an ultra-fast QPCR device without the need for pipetting. It enables the detection of 2019-n-CoV and more than 100 pathogens, including monkeypox.
The Hecin HC800 can be used in all areas, such as:
Pharmacies
Testing centers
Clinics
Doctor's offices
Schools
Nursing homes
Airports
And many more...
What is QPCR?
QPCR is used in general disease control to bring the unique safety standards of PCR methods to the point of care. Easy-to-learn operation and easy handling lead PCR tests to success. Reliable, lab-like results in minutes instead of days!
DETECTS MORE THAN 100 PATHOGENS
This testing device can detect positive samples within 30 minutes. It is capable of detecting not only 2019-n-CoV, but also more than 100 other pathogens.
FAST & ACCURATE
More than 900 cases have been detected, with a total coincidence rate of more than 98%. PCR reaction time within 30 minutes for 8 samples simultaneously.
USER-FRIENDLY
Space-saving, handy device that does not require a computer and is equipped with a built-in printer. With a weight of only 3.2 kg, it is easy to transport.
Application of the HECIN-HC800-POC-PCR-QPCR Test Device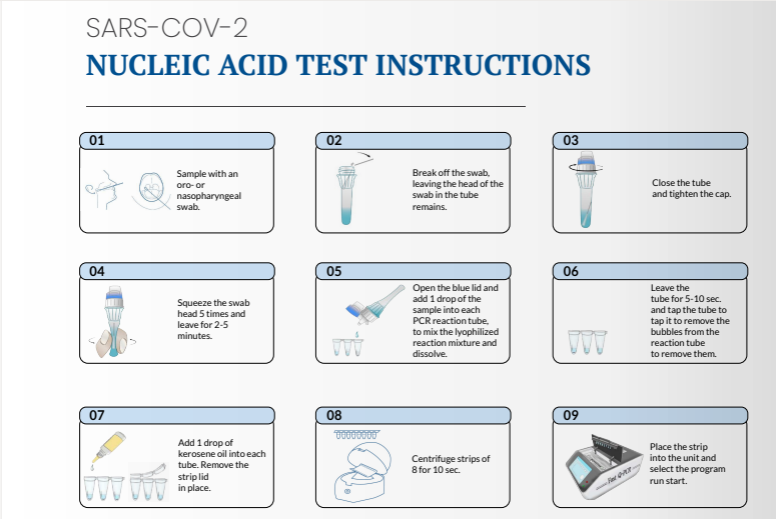 Technical Data
PRODUCT CONTENTS
POC-PCR Device - Integrated thermal printer
1 x Test device, 1 x Power cord, 1 x Adapter for power cord
1 x User manual, 1 x Certificate, 1 x Warranty card
CLICK FOR DEVICE MANUAL
PACKAGING
1 test device per carton
Printer: Integrated thermal printer
Paper width: 560 mm
Weight: 3.2 kg
Dimensions (LxWxH): 250 x 190 x 120 mm
Detection mode: Real-time scanning
Throughput: Max. 8 centrifuge tubes in 30 min
Accuracy: More than 100 pathogens
Number of fluorescence channels: 4 channels
Product-specific FAQ
Can the machine be used as a Point of Care (POC) device?
Yes, it can be used under §6 (1) of the TestV, Device ID: 2864
In which languages is the machine available?
The machine is available in English and Chinese.
Is the machine ready for use immediately or does it need to be configured and calibrated first?
Yes, the machine is pre-configured and calibrated before delivery.
During start-up, the machine performs a self-test that takes 1-2 minutes.
Is the machine exclusively for Covid19 detection?
The HC800 is a quantitative real-time PCR machine. If the test is suitable, it can be performed on the HC800, such as for monkeypox, diabetes, etc.
What is the sensitivity of the machine (LOD)?
The sensitivity is 200 copies/ml.
Is a centrifuge supplied, and if so, what is it used for?
A centrifuge is supplied free of charge. It is used to clarify suspensions. The centrifugal force accelerates the natural settling process of suspensions.
Is the device certified?
Yes, it is IVD and CE certified.
Can a contact person from the company be made available for inquiries?
Yes, there will be support in German and English.
General FAQs
How does Odem ensure high-quality at such a fair price?
The Better AG, founded in 2006 in Switzerland, has become the main supplier to thousands of companies in recent years.
The strategy:
Purchasing in large volumes
Tight quality control of goods
Passing on the purchasing advantages to our customers
By offering the possibility to receive free samples, there are no risks to the customers.
What is the money-back guarantee?
If you are not satisfied with your purchase, you can return it within 14 days of receipt for a full refund.
What payment options are available?
We offer a convenient payment via invoice after receipt of goods to a German bank account.
Has the goods already been cleared by customs?
Yes, the goods have already been cleared by customs and will be delivered to you from our German warehouse. You will not incur any additional costs.
Product Sheet